IF YOU NEED AN EMERGENCY DENTIST OR HAVE AN URGENT DENTAL ISSUE CALL:
SMILE CARE DENTAL: YOUR EMERGENCY DENTAL CLINIC: call now 519-740-3884
Read below for help regarding the most common type of DENTAL EMERGENCIES:
TOOTH PAIN
BROKEN TOOTH/ LOST FILLING
SWOLLEN FACE
If you are in need of emergency dental services and call Smile Care Dental during regular business hours, we will see you the same day! You will receive prompt attention and compassionate care.
If you are in need of an emergency dentist when our clinic is closed our answering machine message has the phone number of the dentist from Smile Care Dental that is the emergency dentist for that week. CALL or TEXT our emergency dentist at that number and we will help you with a dental emergency.
OR
If you are in need of an emergency dentist when our clinic is closed and you are on your mobile device, you can text our 24 hour emergency dentist directly by searching "Smile Care Dental Cambridge" in your browser, click on our office, and then clicking "MESSAGE" on the page that will open: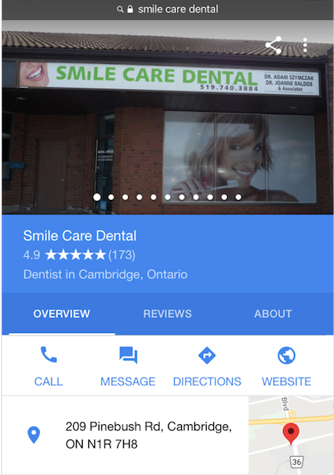 Do not settle for an answering service! Communicate directly with an emergency dentist, a "24 hour dentist", from Smile Care Dental. Our emergency dental clinic in Cambridge will help you in your time of need.
If you are experiencing a dental emergency, it is in the best interest of your health to contact an emergency dentist as soon as possible. If you are unable to do so, below are some helpful tips in managing the most common and most serious type of dental emergencies:
Tooth pain is horrible! Due to the type of nerves that are within the tooth, a toothache can be as severe as passing a kidney stone. If you are experiencing severe tooth pain, it is likely due to the nerve dying within the tooth. READ MORE>>>
When a patient experiences a broken tooth, it is often a surprise as most commonly it is something soft that one has bitten into that "breaks the tooth." What to do about a broken tooth?
If you did not have recent dental surgery and you have a swollen face you are very likely experiencing an dental infection from an infected tooth for which you should take antibiotics AND have a dentist treat the infected tooth. READ MORE>>>
When the whole permanent tooth gets knocked out of jaw bone including the whole root, it should be re-implanted as soon as possible! Ideally within 30 minutes. The sooner it gets re-implanted the more likely it will re-attach to the bone and function for years to come. READ MORE>>>
Choosing a dentist based on who can see you in your time of need is certainly valuable, but there are 6 more important ways of choosing a dentist. READ MORE>>>
OTHER Dental Emergencies: bleeding, broken dentures, loose filling, loose crown or bridge,, orthodontic emergency (broken bracket, a wire that has come out), trauma to your jaw(s), trauma to your teeth, canker sores, TMJ pain, wisdom teeth