Q: WHY DOES THUMB SUCKING OCCUR?
A: It's a natural process!
We are genetically programmed to have a sucking reflex, without it infants would not be able to breastfeed. Infants will instinctively suck anything placed in their mouth.
Infants quickly learn that sucking not only provides food, but it is also pleasant and comforting. As such most infants are involved in finger sucking, most commonly thumb sucking.
Q: IS THUMB SUCKING NORMAL?
A: Yes!
Thumb sucking is a normal and healthy aspect of an INFANT'S development. Thumb sucking is a source of self-soothing and helps infants fall asleep.
Q: SHOULD A PARENT BE CONCERNED ABOUT THUMB SUCKING AND TEETH?
A: It depends! NO:
Thumb sucking can have negative effects, the most significant of which are the effects on the development of the adult teeth and the growth of the upper jaw bone.
Thumb sucking will NOT effect teeth and jaw bone IF the thumb sucking is:
infrequent

short in duration

mild in intensity
A parent should not be concerned about the effects of thumb sucking on the BABY TEETH. As long as the thumb sucking habit stops before the adult teeth come in, any effect on the baby teeth will NOT carry over to the adult teeth.
Almost all thumb-suckers and finger-suckers will stop on their own by the age of four. Treatment should NOT be attempted before the age four!
The adult teeth start to come in around the age of 6. IF thumb sucking is:
frequent and/or

long in duration and/or

severe in intensity
AND your child is over the age of 4, plan the weaning process so that the habit is stopped before the time the first baby tooth is lost.
Q: SHOULD A PARENT BE CONCERNED ABOUT THUMB SUCKING AND TEETH?
A: It depends! YES:
THUMB SUCKING TEETH: THE EFFECT ON THE ADULT TEETH AND UPPER JAW BONE: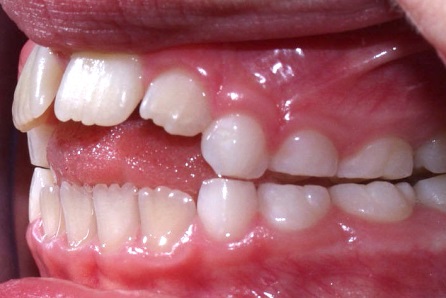 IF the thumb sucking habit is not stopped by the time the first baby tooth is lost:
the upper front adult teeth will be pushed up and forward towards the upper lip
the lower front adult teeth can be tipped back towards the tongue
the effect on the teeth results in an "open bite": a large space between the upper and lower teeth; upper and lower front teeth are unable to come together
acquired tongue thrust: the space between the front teeth invites the tongue into it having a further effect on tooth position and makes treatment more challenging
the top jaw bone gets narrowed causing a "cross-bite" in the back teeth
These severe changes can cause speech and swallowing difficulties. Furthermore, many children will be teased by their peers due to the unaesthetic appearance and for continuing an "immature" habit of thumb sucking.
PREVENTING THUMB SUCKING TEETH PROBLEMS:
1) BEFORE THE AGE OF 4: USE A PACIFIER
The use of a safety approved pacifier is recommended. It is easy to take away a pacifier during the weaning process between the ages 4 and 6. It is illegal to take away a child's thumbs! A child uses the pacifier for soothing instead of fingers.
Things to keep in mind regarding pacifiers:
it might take multiple placements in the mouth before the baby feels comfortable with it

do NOT use sweeteners to encourage use of a pacifier

do NOT wean too early as the child may then start thumb sucking; most children stop using a pacifier on their own by the age of 4
2) AGE 4-6: WEANING THE USE OF THUMB SUCKING AND PACIFIER
Weaning: "to detach from a source of dependence".
Your child has become dependent on sucking for comfort, pleasure and self-soothing. Observe what triggers your child to suck their thumb or pacifier and provide them comfort so that they don't have to resort to their old habits. Praise your child for not sucking their thumb or pacifier.
Get your child involved in stopping the habit by recording incidents of sucking in a calendar. Reward your child weekly for improvements. Explain why it is important to not continue this habit, show pictures of what will happen to the teeth if the habit continues beyond the age of 6.
There are other methods (often ineffective) to break the habit ( use with caution!):
use of bitter tasting medication to apply to the thumb/ nail

putting a sock or mitten over the hand and taping it securely during sleep

thumb guard
There are many products on the market readily available on the internet. Keep in mind WEANING from sucking a thumb or pacifier is NOT about buying a product it is about helping your child with their emotional regulation which is best achieved by positive re-enforcement and guiding your child through this transition as described above.
Shaming and negative re-enforcement should not be used.
3) AGE 6 AND OLDER: THUMB SUCKING APPLIANCE
A six year-old or older child is causing or has often already caused damage to the adult teeth.
A child who has not shown improvement using the calendar and positive reinforcement must not feel like they have failed or are being punished with the thumb sucking appliance.
The use of a "palatal crib" is the final alternative that is almost always successful. The "palatal crib" should be explained to a child as a device that will act as a reminder to keep the thumb out of the mouth. This appliance, constructed by a dentist, acts as a suction breaker reducing the value of sucking.
TREATING THUMB SUCKING TEETH:
Treating thumb sucking teeth involves extensive orthodontic treatment (braces).
It is best that thumb sucking teeth be prevented.
———————————————————————————————————————————
In the best interest of your health and well-being,
Dr. Joanne Baldos and Dr. Adam Szymczak